Lick Wilmerding Campus Expansion and Renovation
San Francisco, California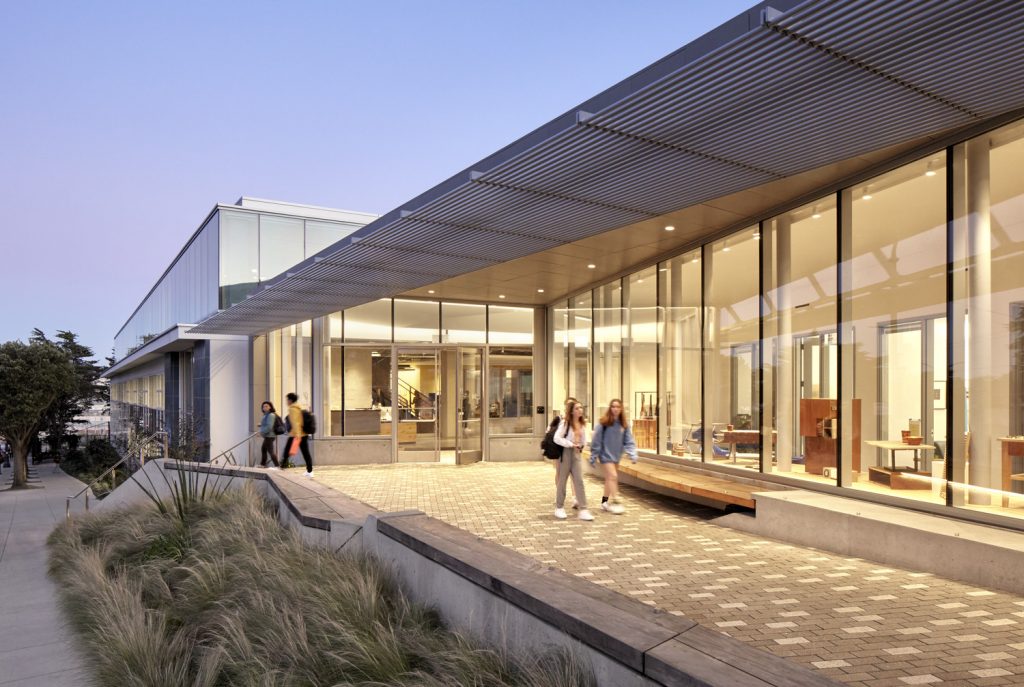 The Lick Wilmerding Campus Expansion & Renovation consists of a major renovation of, and addition to, the campus' main classroom/administrative building and science labs. The project negotiates the physical constraints of a tight urban campus and also design constraints of being a historic structure. The design takes advantage of being located on a pedestrian-heavy section of Ocean Ave, by creating a new main entry that promotes the identity of the School. The transparency of the entry will showcase built student works and announce their Center for Civic Engagement which reflects the School's motto of "Head, Heart, Hands", a philosophy that fosters academics, social and community engagement, and their continued legacy of industrial design.
The original mid-century modern building was designed by local architect William Merchant who was also an alum of the school. The original building employs the use of a very delicate wood and aluminum framed curtain wall system, which was state-of-the-art technology for its time. The new third floor addition pays homage to this and similarly employs a high-performance curtain wall system to create a taut ephemeral glass box that rests lightly on top of the historic building below.
The interior layout breaks away from the traditional double loaded corridor, and provides daylit hallways that open towards flexible shared break-out spaces that promote the school's emphasis on collaboration and interaction. New and renovated classrooms will have minimal finishes to create more volume, height and flexibility, while allowing for more daylight.
The project is committed to net-zero energy use, with the target of either Living Building Challenge Petal Certification or LEED Platinum Certification. The ultimate goal is for the special features of the project to educate the users and make them more aware of sustainability and equity issues beyond the building or campus itself.
Client
Lick-Wilmerding High School
Awards
2020 AIA California Council Merit Award
2020 AIA San Francisco Merit Award
2020 CBE Livable Building Award
2019 ENR California's Best Project Award
2022 AIA COTE Top Ten Plus Award
Photographer
Michael David Rose